Termékeink
Az iew Induktive Erwärmungsanlagen GmbH a közepes és nagyfrekvenciás, legújabb tranzisztoros technológiával rendelkező indukciós melegítő berendezések gyártására és világméretű forgalmazására szakosodott.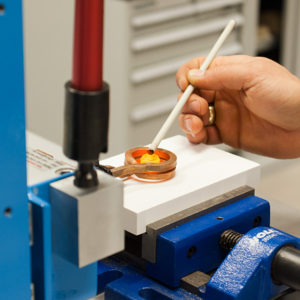 Berendezéseinket főként ipari felhasználók használják az egyéni munkaállomásokon. Ipari célokra fejlesztünk, tervezünk és építünk kifejezetten az adott ügyfél igényeire szabott berendezéseket.
Egyéni munkaállomások berendezéseinek gyártása
Automatizált berendezések gyártása
Speciális alakú induktorok gyártása
Ezen a weboldalon termékinformációkat (pl. forrasztó– és edzőberendezések) és adatlapokat talál. Ha további információra van szüksége, örömmel állunk rendelkezésére egy személyes beszélgetésre!
Termékkínálatunk áttekintése:
Induction heating units
We develop, produce and distribute mobile and stationary induction heating units with a power range from 2kW to 25kW for contact-free heating of metals, among others, for brazing, hardening and shrinking.
Temperature control and control electronics
With our PLC control units you control the heating parameters (e.g. target temperature, holding time, etc.). Thereby up to 100 different programs can be stored. In this case it is possible to combine various programs, such as hardening and subsequent tempering in one sequence. Of course the specially programmed PLC sequential control from the iew GmbH can even realize complex brazing applications such as brazing under a protective gas with pre- and after flooding of nitrogen.
Inductor construction
To achieve an optimal heat input it is necessary to design an inductor precisely matched to the workpiece. The iew GmbH is able to realize every possible inductor geometry (through specially made CAD drawings), in coordination with our customers. These fit optimally to the relevant process in terms of efficiency and heating zone. Through our inductor construction seminar we enable our customers to build their own inductors in the future, so a quick adjustment to component changes can be made possible.
Inductor-Design
Design incl. CAD drawings and inductor production according to your wishes.
Cooling systems
Efficient water re-cooling systems ensure optimal cooling performance and safety in the workplace.
Infrared-Pyrometer
Spot-on temperature control requires precise measurement- and control processes with non-contact infrared temperature control systems.
Ceramic tools
We can provide you with the correct ceramic tools with which you can handle and manipulate glowing workpieces e.g. ceramic tweezers or technical ceramics for fixtures.
Special copper material
We have a large stock of round and square profiles of copper, so that we can make custom-made products (e.g. inductors) in any dimensions for you.